Lesson Plans
GRADES K – 3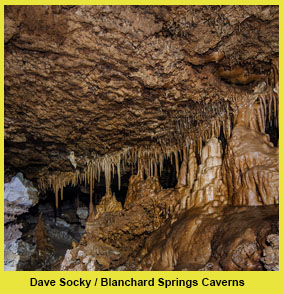 GRADES K – 6
GRADES K – 12
GRADES 3 – 5
GRADES 3 – 12
GRADES 4 – 8
GRADES 6 – 10
GRADES 5 – 12
Exploring caves: teaching packet for grades K – 3
From the U.S. Geological Survey
https://pubs.er.usgs.gov/publication/70043840
"Exploring Caves" is an interdisciplinary set of materials on caves for grades K-3. Caves entail at least five scientific disciplines: earth science, hydrology, mapping, biology, and anthropology. Each of these disciplines involves a unique content area as well as the development of particular intellectual skills. This unit aims at helping teachers to sort and organize the most important ideas in this rich scientific area.
Junior Cave Scientist
From the National Park Service
https://www.nps.gov/subjects/caves/junior-cave-scientist-program.htm
The Junior Cave Scientist Program is a part of the National Park Service Junior Ranger Program. The goal of the Junior Ranger Program is to connect young people to their national parks through a variety of in-park activities that are designed to introduce them to the national park system and cultivate future generations of park stewards. While become a Junior Cave Scientist, students will explore a fascinating and fragile underground world, learn about the values of caves and karst landscapes, and complete fun educational activities.
Bring a Cave to Your School!
https://www.cavesim.com/
How would you like to bring a cave to your school to give your students an immersive, educational experience with caves? CaveSim exists to do exactly that. Based in Colorado, CaveSim is a mobile cave system that travels around the country to do educational programs at schools, parks, museums, and public events. K-12 students (and adventuresome adults) put on helmets and crawl and climb through 60 feet of cave passage. To make learning fun, a computer system keeps track of how carefully students explore -- students who avoid touching the fragile cave formations get a better score.
CaveSim programs are about a lot more than just crawling. The owner and inventor of CaveSim is an MIT graduate who teaches students about a wide variety of STEM concepts, from mechanical systems (with hands-on experience on a 12' ropes tower) to chemistry (with demos of working carbide lamps) to biology (with bat physiology lessons and live-culture labs) to engineering and math (with hands-on labs). Thanks to the teachers on staff, CaveSim programs are standards aligned and filled with educational content for the full K-12 range. To learn more about our school programs, visit www.cavesim.com/schools. CaveSim LLC also creates mobile and permanent cave installations.
Ice Caves of Lake Superior
From Into the Outdoors
http://intotheoutdoors.org/topics/ice-caves-of-lake-superior/#video
When winters become especially cold, ice can fill caves along lakes and seashores and create a place begging to be explored. Watch the Serious Science video to discover nature's secrets about these fascinating features. An elementary lesson plan introduces students to the characteristics of rocks using various observational techniques. A high school lesson plan integrates an understanding of the geologic processes that resulted in the formation of the Great Lakes.
Lessons from National Groundwater Association
http://www.ngwa.org/Fundamentals/teachers/Pages/Lesson-Plans.aspx
Lesson plans are available about water in general, groundwater, aquifers (for middle and high school levels), and wetlands.
Mammoth Cave Curriculum Materials
From the National Park Service
https://www.nps.gov/maca/learn/education/curriculummaterials.htm
These lesson plans from the Mammoth Cave national park help students conceptualize how caves are created, learn about national parks, and more.
Project Underground
http://karsteducation.org/
Project Underground is a source of interdisciplinary instructional activities, and its staff conducts workshops and in-service training programs. These materials and workshops are designed for classroom teachers, cavern, park, museum, and nature center staff, or any youth-oriented group leaders.For more information on holding a workshop about the curriculum, contact: Carol Zokaites, National Coordinator of Project Underground; 540-382-5437; or czokaite@vt.edu.
From Scholastic
Cave Animals: http://teacher.scholastic.com/lessonrepro/lessonplans/theme/caves05.htm
Animals use caves in different ways.
Introduction: The Science of Caves: http://teacher.scholastic.com/lessonrepro/lessonplans/theme/caves01.htm
More Than Skin Deep: A Teacher's Guide to Caves and Groundwater
From the National Park Service
https://www.nps.gov/ozar/learn/education/skin-deep.htm
Check out this web page for links to lessons about bats, making a cave, groundwater, cave formation, and stalactites.
Walking on Water
From the University of Florida
https://walkingonwaterfl.org/virtual-tour/
Walking on Water is an immersive environmental education program for 5th graders in Florida. It consists of a field trip to the springs to learn underwater photography and a classroom visit where students explore the aquifer via a 360° virtual tour. View the 360° virtual tour in YOUR classroom at https://walkingonwaterfl.org/virtual-tour/. If you are a Florida teacher or school administrator interested in having the Walking on Water program come to your school, contact Jennifer Adler at jennifermadler@ufl.edu
Brain Power
From Luray Caverns
http://luraycaverns.com/education
Check out eight lesson plans about caves and karst.
Caves and Karst
From PBS Learning Media
http://rmpbs.pbslearningmedia.org/resource/ess05.sci.ess.earthsys.caveintro/caves-and-karst/
This interactive web site depicts caves and other karst features and includes videos about cave formation.
Amazing Caves!
http://cavecurriculum.weebly.com/lesson-plans.html
From Noelle Grunwalk, University of Minnesota – Duluth
Check out 14 lessons plans from the basics (introducing students to caves) to learning about cave critters.
Dye Tracing
From the National Park Service
https://www.nps.gov/wica/learn/education/upload/Hydrology-DyeTracing.pdf
Students learn how the source of water can be traced through a cave and then can discuss the effect that polluted water could have on a cave.
From Squire Boone Caverns
http://www.squireboonecaverns.com/PDF/SBC-Cave-Unit-Plan.pdf
While these lessons refer to Squire Boone Caverns in Indiana, the unit is applicable for all caves. Students will learn to identify the different types of caves and speleothems and how limestone dissolve and speleothems grow.
Indiana Bats, Kids & Caves – Oh My!: An Activity Book for Teachers
From the Education Department of Evansville's Mesker Park Zoo and Botanic Garden
https://www.fws.gov/midwest/Endangered/mammals/inba/curriculum/
This curriculum offers a wide range of activities about bats, karst topography, and caves.
Prehistoric Caves Art
From Art Room 104
http://artroom104.blogspot.com/2013/10/6th-grade-prehistoric-cave-art.html
Follow the art instructions in the lesson plan and have your students create cave paintings like those found in Lascaux Cave in France. First, crinkle a huge sheet of brown butcher paper to create physical texture like rocks in a cave. Then, take natural colored chalk that and rub it all over the wrinkled paper. Using paper towels, wipe it to blend all the colors together. Then, fill in the "cave wall" with large paintings.
Sinkholes in a Cup
From Earth Science Week
http://www.earthsciweek.org/classroom-activities/sinkholes-cup
Sinkholes are natural depressions in the land caused when limestone and soils dissolve. They form when groundwater removes rock underground. They can form by slow gradual sinking or by sudden collapse of an underlying hole.
Karst Landscapes and Caves of Southeast Alaska: A Resource for Teachers
From the USDA Forest Service
CLICK HERE for .pdf
This resource guide provides information and teaching ideas about the caves and karst lands of Southeast Alaska. The guide includes: a map depicting the karst lands and geology of Southeast Alaska; a descriptive guide with glossary and student activities; goals and objectives for activities; and useful appendices.
Material for Teachers
From the National Caves Association
https://cavern.com/Learn/teachers.asp
Check out lessons plans about bats, cavern geology, cavern life, and people and caverns.
The Mysterious Life of Caves
From PBS
http://www.pbs.org/wgbh/nova/education/activities/2910_caves.html
Students will understand that microorganisms can survive in many different environments and that microorganisms live in places where conditions are suitable for their growth.