How To Participate
CavesLIVE featured two programs exploring the world of wonder that awaits just below the surface. The live project has ended but watch the programs and check out the web site for resources:
CLICK HERE to watch "CavesLIVE: Bringing Caves and Karst to Light", which explores cave ecology, geology, hydrology, and conservation, as well as human uses of caves. Specially adapted animals, beautiful mirror pools, sparkling crystals, domed caverns, and twisting tunnels lie just below our feet in many areas around the world and even on other planets! Caves provide just one connection between our everyday lives and this rich underground ecosystem. Learn how we are connected to these amazing underground resources.
CLICK HERE to watch "CavesLIVE: A Distance Learning Adventure", which was webcast live from Luray Caverns in Virginia. Scientists answer all of your questions about caves.
CavesLIVE: A Distance Learning Adventure provides teachers, students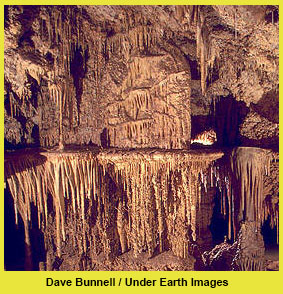 and the general public with informative and interactive ways to learn about caves and karst. Join us to:
Educate students and others that caves and karst features on the surface are pathways to the subsurface
Learn about how nutrient and energy sources move through those pathways into the subsurface, sustaining thriving communities of biota of all sizes.
Educate about how people have used caves to sustain/protect life, for their cultural and spiritual practices, and for science, education, and fun.
Understand the role of citizens, public land management agencies, and non-governmental organizations in stewarding natural resources.
Increase participation in and understanding of citizen science programs related to caves and karst so that students learn the importance of being a good steward.
Meet national education standards as they relate to Earth, Biological, and Social Sciences.
You may participate in this distance learning adventure in a number of ways:
Register for CavesLIVE
CLICK HERE to register so that you can keep up-to-date.
After Registering
There are several things you can do before the webcast to help your students get the most from the electronic field trip and take advantage of the experts during the program.
A Month Before the Program
Watch a video – "CavesLIVE: Bringing Caves and Karst to Light" – which will be available on this website in February 2018 to prepare students for the live event.
Two Weeks before the Webcast
Test all of your equipment to be sure that you can watch the webcast on the day of the event. If you want to watch the program on an iPad or iPhone, you will need a third-party application.
Prepare your students for the webcast by teaching one of the LESSON PLANS.
Day Before the Webcast
Test your equipment one last time to ensure all potential technical problems have been addressed.
We recommend that you have two computers available: one for viewing the live program and the other for submitting questions and comments on the webcast page.
Day of the Webcast
Ten minutes before the live webcast, we will put up a test screen so you will know that you have a connection.
Brainstorm with your class questions that you would like to ask of the scientists during the program and submit them on the webcast page.
Enjoy the program!
After the Program
Please fill out the EVALUATION and give us your feedback.
If you can't join us the day of the webcast, no problem! The webcasts will be archived and may be watched later in the year or with future classes.