Links
Bat Conservation International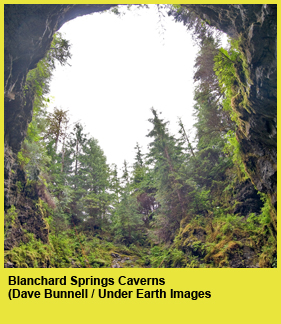 http://www.batcon.org/
BCI is dedicated to the enduring protection of the world's 1300+ species of bats and their habitats and creating a world in which bats and humans successfully coexist.
BatsLIVE: A Distance Learning Adventure
From Prince William Network and the USDA Forest Service
https://batslive.pwnet.org/index.php
BatsLIVE: A Distance Learning Adventure brings bat conservation to life through webcasts, webinars, and online education resources. Bats are vital to healthy ecosystems and human economies worldwide.
Cave Research Foundation
http://www.cave-research.org/
The Cave Research Foundation is a private, non-profit organization dedicated to: facilitating research, management and interpretation of caves and karst resources; forming partnerships to study, protect and preserve cave resources and karst areas; and promoting the long term conservation of caves and karst ecosystems.
Caves: A Window into the Edwards Aquifer
From the Environmental Science Institute, the University of Texas at Austin
http://www.esi.utexas.edu/outreach/k12-resources/caves/
The Edwards Aquifer of central Texas is a critical resource that provides drinking water and recreation for residents. While these lessons emphasize the Edwards Aquifer, there are also lessons on: What is a karst?; how caves form; and cave formations.
Generalized Stages of Cave Development
From the National Park Service
https://www.nps.gov/cave/learn/nature/upload/cave_development.pdf
Find excellent drawings about how caves form.
The Lives of Extremophile
From NOVA
http://www.pbs.org/wgbh/nova/nature/lives-of-extremophiles.html
Diana Northup can get extreme about extremophiles, microbes that thrive in environments that would terminate us humans in seconds flat. "We think we're superior beings, but these guys are really where it's at," says Northup, a microbiologist and associate professor at the University of New Mexico and an associate in the university's Museum of Southwestern Biology. Check out the web page for other links, for example, the "Journey into Lechuguilla Cave."
National Cave and Karst Research Institute
http://nckri.org/
The National Cave and Karst Research Institute (NCKRI) is a non-profit government-supported institute headquartered in the City of Carlsbad, New Mexico. Its goals are to conduct, support, facilitate, and promote programs in cave and karst research, education, environmental management, and data acquisition and sharing.
National Caves Association
https://cavern.com/Learn/
This web site has thorough information about how caves form, types of caves, cave creatures, cave formations, protecting caves, material for teachers, and educational links.
National Speleological Society
http://caves.org/
With 10,000 members and 250 grottos (chapters), the National Speleological Society is the largest organization in the world working every day to further the exploration, study, and protection of caves and their environments, and foster fellowship among cavers.
Underground Connection
From Texas Parks and Wildlife
http://tpwmagazine.com/ktw/media/KTW-August-11-vol.3-issue12.pdf
This newsletter is a visual explanation of many features found in caves.
Virtual Cave
http://www.goodearthgraphics.com/virtcave/
From the comfort of your keyboard, browse the wonders of the underground!